"Personalize your trip with stickersvan, vinyls and stickers that transform your van into a rolling work of art! Express yourself in every kilometer with style and originality."
FREE SHIPPING
FREE STICKERS FROM INSTA OR FACEBOOK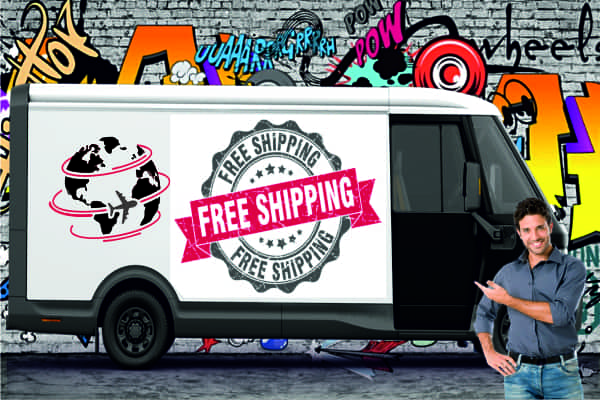 OUR DECALS FOR VANS AND MOTORHOMES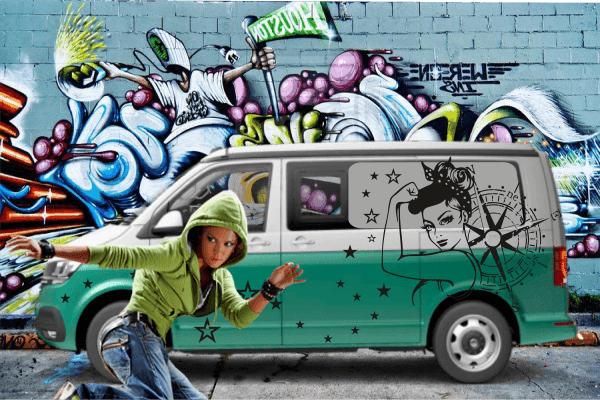 The compass rose, one of our most popular decals, stands out for its excellent design. The high quality vinyl for vans is available at the best price on the market. Find your own decal here, fitting your standards and your wallet!!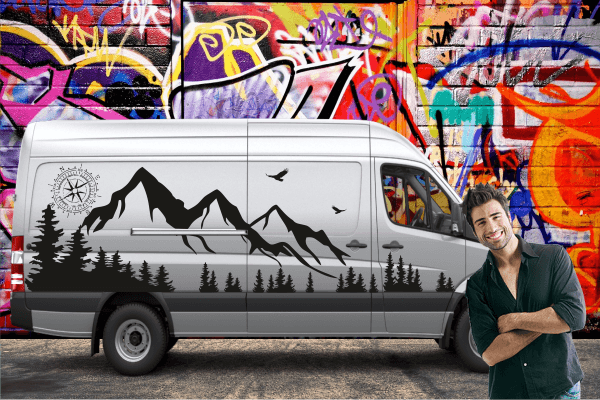 Side stripes for your van with dozens of designs, from eye-catching to discrete and elegant motifs. These decals will add a special and unique touch to your vehicle. If you are unable to find what you are looking for, get in touch with us
New stickers 2024 now available !
New models!
The best sellers!
| | |
| --- | --- |
| Side stripes for your T6, exterior decoration caravans, stickers for Volkswagen California, interior stickers for your trailer, graphics for vans, decals for climbing vans and much more. Find all our decals for vans in our product catalogue. | Find all our decal graphics for vans, campers, motorhomes and trailers here. We offer hundreds of design choices, all designed by us, for camping and adventure lovers. |
Transform your van into a rolling canvas of creativity and style with our customizable decorative vinyls. Decorating with vinyl is not only a vibrant way to express your personality, but also offers a unique opportunity to turn your van into a space that is truly yours..
Imagine the thrill of the road combined with the unique aesthetics that only your ideas can provide. Our vinyls offer a wide range of options, from eye-catching and colorful designs to elegant and minimalist, allowing you to customize every corner of your van according to your tastes and preferences.
Vinyl application is easy and reversible, meaning you can change and update the look of your van depending on your mood or the seasons of the year. Besides, vinyls provide an additional layer of protection for your vehicle's paint, keeping it cool and resistant to wear.
Whether you dream of a bold design that turns heads on the road or prefer a more personal and relaxed touch, Our decorative vinyls offer endless possibilities to turn your van into an authentic reflection of your adventurous lifestyle.. Elevate your travel experience and make each journey a unique expression of who you are with our decorative van decals!!"
Our decals will give your camper, van or motorhome a unique and personal touch. All our decals are made with the best materials on the market and are available in a wide range of colours, All our vinyls are available in a wide catalog of colors and manufactured with the best materials on the market., made in Germany or Italy, are fabricated for you to enjoy for many years to come, without having to worry about them coming off. Our decals will easily decorate your vehicle for up to 10 years, they can be cleaned just like the rest of your van, including with high-pressure hoses, brushes, etc….
---
ADVICE ON HOW YOUR DECALS LOOK ON YOUR VAN
HELP DURING THE INSTALLATION OF YOUR VINYLS
CUSTOMER PHOTOS
We advise you on color, size, etc…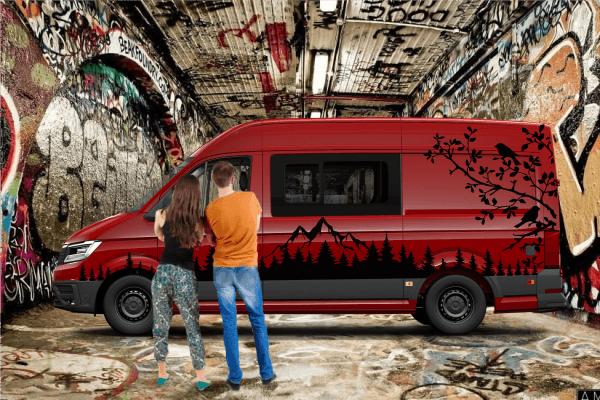 for your decal. This way we can make changes to our designs, allowing us to customize them even more and create a completely unique, personal and exclusive design for your van.


If you have questions during installation of your decorative vinyl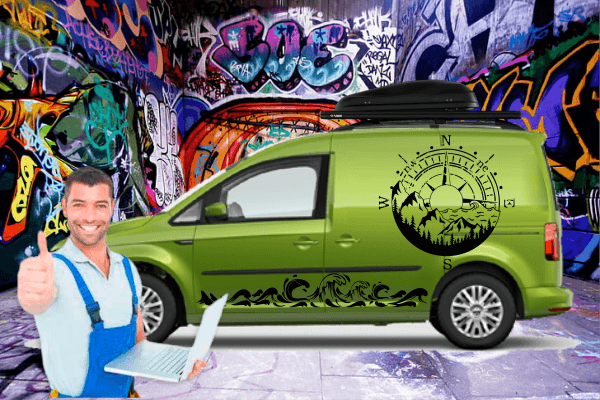 If you run into any difficulties or have questions at any stage of the process, or you are installing it and you have a problem or doubt we help you at all times via mail or chat so that you have no doubts and you can place your vinyl on your van easily and with the best result.
And this is how your vinyls have remained in your vans and motorhomes, thanks guys for sharing your photos with us!! and you can also send yours to info@stickersvan.com.
QUALITY OF OUR STICKERS
A vinyl is not just any adhesive that we place without even worrying about how it will look, how long will it last, it will take off, will lose color…
At Stickersvan we take the quality of our products very seriously., therefore we only work with top brand equipment and materials, German-made raw materials and under ISO control standards and norms
All our decals are made with permanent adhesive compounds with a good initial hold and elevated adhesive force after 48 hours, which helps you apply your graphic on most commonly used surfaces.
Our graphics hold their form and dimensions over the years without shrinking or losing their shape..
We use materials of specific base colours, the colour is not just printed onto our decals, which guarantees great scratch resistance. Unless you decide to tear it up, the decal will never get scratched or ripped and keeps its colour almost indefinitely. Because we don't print the colour onto the material, the colour or pigmentation will not fade due to sunlight, washings, scratches, etc…
In general, our decals last for many years without any difficulty until the customer decides to remove it in which case this can be done in a quick and clean way. If you want to remove your decal, contact us. We inform you about the best way to do so.
2018-11-21